Kane Brown Reveals What He And His Wife Katelyn Jae Are Naming Baby Girl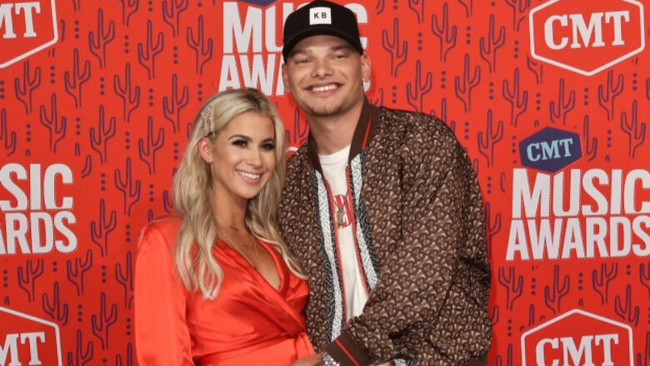 Kane Brown and his wife, Katelyn Jae, just shared the name they have chosen for their baby girl. The adorable couple posted a photo on social media on Wednesday night (August 14) along with the news that they are naming their daughter Kingsley.
The photo posted shows Brown standing proudly next to Katelyn who is holding a large balloon with "Kingsley" written on it. This moment was captured at a baby shower that Jason Aldean and his wife, Brittany, threw for them.
Brown's Instagram caption for the photo read, "Officially announcing our baby's name! KINGSLEY can't wait for u to be here!!! Thank you @jasonaldean and @brittanyaldean for throwing us this awesome baby shower. Love you guys!!!"
Aldean also turned to Instagram sharing a photo of himself with Brown at the party. "My dude! @kanebrown_music is about to be a daddy! So happy for him and @katelynbrown," Aldean wrote in the caption. He also added the hashtag "#kanewearingajacketinaugust" to poke fun at Brown's attire for the evening.
"If I remember correctly u had it on at one point," Brown commented in response to Aldean's comment on his jacket. Katelyn also commented on the post writing, "Best night ever!!!!!!"
Brown and Katelyn Jae tied the knot back in October of 2018 and announced they were expecting a baby in April of 2019. They dropped the news that the baby was going to be a girl in May on the BBMAs red carpet.
During the 2019 CMT Awards in June, Brown opened up sharing with ET that he's going to be "very protective" over his baby girl. "I'm going to be very protective, but I'm going to let her do her own thing," he explains.
Revealing his hopes for a sporty girl, Brown said, "I just hope she plays basketball, that's all I want. Basketball or softball, some kind of sport, all I'm hoping for."
In the months leading up to the birth of baby Kingsley, Brown will be extra busy. He's out on the road opening up all summer for Aldean on his "Ride All Night Tour." See what shows are remaining on the tour and grab your tickets here.